"Thou drewest near in that day that I called upon thee: thou saidst, Fear not."
Lamentations 3:57
Suggested Scripture reading – Lamentations 3: 53-57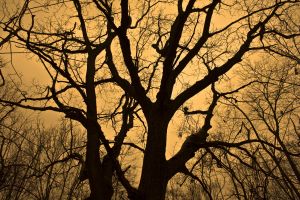 Jeremiah, the weeping prophet was thrown into prison on several occasions because of his preaching. One of those prisons was a dungeon with deep, filthy mud instead of a floor. He was up to his neck in muck because he tried to call the people back to the Lord. In this predicament he cried out in despair, "They have cut off my life in the dungeon, and cast a stone upon me. Waters [of depression and sorrow] flowed over mine head; then I said, I am cut off." (Lamentations 3:53-54) Believer, those times of discouragement will come. They came to one who also knew depression and he reported the following.
On a day that was cold and grey, when the wind moaned through the naked branches of the trees, I cried. My burden was more than I could bear. There was no one to help; no one to know. No one to care. I suffered alone. I had lost all, with no hope of regaining the joy of my heart.
There Lord, you came to me. Out of the dungeon of my soul you heard my voice. I breathed out my prayer to you and you drew near to me. And the day that was so cold became warm. The gray cloudy skies cleared and the sun of your love shown through. My world regained color. The leaves on the trees were green again. The difference came when you spoke two words to me. Two words brought healing and peace; strength and courage. You said to me, "Fear not." There was no longer any room for fear because you heard my prayer. I need not fear because you argued my cause and none can accuse me of wrong. My enemies hate me. The Law condemns me. Lord, you saw my guilt and then took my reproach on yourself. As the caring wonderful Father you loved me. Your words gave to me, as they did to Jeremiah, strength and hope. Therefore, from this time forward I will:
FEAR NOT.
"Turn thou us unto thee, O Lord, and we shall be turned; renew our days as of old.
Lamentations 5:21
---
Please leave us a comment if you have any thoughts, ideas, or questions about this post.
If you enjoy Life About Fear please take a second and share it with your friends.