"But fear not thou, O my servant Jacob, and be not dismayed, O Israel: for, behold, I will save thee from afar off and thy seed from the land of their captivity; and Jacob shall return, and be in rest and at ease, and none shall make him afraid." Jeremiah 46:27
Suggested Scripture reading – Jeremiah 46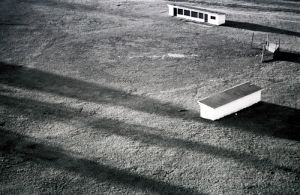 The ball game had ended an hour ago and most of the fans and the players had gone home. The sun was going down and the orange street lights were coming on. That is when I saw him sitting all alone on the bench by the parking lot. He was a young boy and the hat and ball glove beside of him gave away the fact that he had been a player in the game. I was beginning to become concerned as I watched him sitting there. He was obviously waiting for his ride home but as each minute passed it was apparent that he was beginning to worry that maybe his ride was not coming.
"Waiting for your ride home?" I ventured.
"Yes sir, but I'm not sure that my dad's coming." The boy answered. There was a catch in his throat that belied the tears just under the surface.
"What makes you think that he might not come? You are his son. I'm sure that he is coming but has just been delayed for a bit." I tried to be encouraging.
"I don't think so." the small voice answered. See, I was adopted just a little while ago and he is not my real dad. He might have changed his mind and not really want me any more."
"But, if he adopted you, I am sure that he cares for you a great deal." I responded.
"That is what he said, but where is he?" He was very afraid that he had been forsaken and forgotten.
Jeremiah saw the same emotion in the people of God. They had been taken into captivity and were now slaves "in the land of their captivity." (Jeremiah 47:27) All the nations around them were suffering destruction and the judgment of God. Israel had sinned and in captivity despaired of the love of God. Surely He had forgotten them. To them God had promised, "But fear not thou, O my servant Jacob, and be not dismayed, O Israel: for, behold, I will save thee from afar off and thy seed from the land of their captivity; and Jacob shall return, and be in rest and at ease, and none shall make him afraid." (Jeremiah 46:27) Jeremiah was saying to not be afraid because their Heavenly Father was coming for them in His own good time. They did not need to fear being forgotten and forsaken by their God.
My young friend was very near tears when we saw the headlights of his father's car turn into the parking lot.
"It's him! it's him!" he exclaimed. "He really didn't leave me! He is coming to get me!" He almost shouted. The adoptive father jumped out of the car and with open arms scooped up his son. With joy the boy hugged his father.
Child of God, your sin may have separated you from God and you feel that you do not deserve the love of the Father. Yet, He does love you as only the Heavenly Father can. Even though you deserve His wrath He says to you, Fear thou not, my servant. Don't be dismayed, my child. I have not forgotten you. I will come for you and I will save you from afar off. You can return to me and be saved and be at rest. There is none to make you afraid. He has not forgotten you He is coming for you in His own time. The lie of Satan is that our Father has cast you away but, FEAR NOT;
He has promised that He will save you from afar.
Hebrews 13: 5b – 6
"For he hath said, I will never leave thee, nor forsake thee. So that we may boldly say, The Lord is my helper, and I will not fear what man shall do unto me."
---
Please leave us a comment if you have any thoughts, ideas, or questions about this post.
If you enjoy Life About Fear please take a second and share it with your friends.