Suggested Scripture reading – Isaiah 54:1-17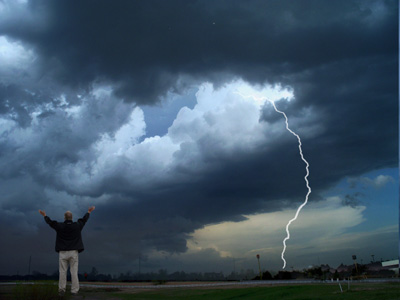 Danny was discouraged. He had trusted Christ as his Savior as a child and had spent his life trying to live for the Lord. He believed in prayer and God had often answered his prayers. That was before his crisis. There came a time of deep trouble. It was life changing trouble. He had prayed and prayed and trusted God but it was seemingly to no avail. God did not answer the prayer the way Danny wanted. As a result, a terrible thing occurred in his life. When it was over, Danny did some hard thinking. Why had this terrible thing happened? God could have easily prevented it. As he knew his own heart there was no unconfessed sin that would have prevented God's intervention. The only conclusion that Danny could draw from these events was that God had forsaken him.
Thus began a period of spiritual wandering for Danny. His discouragement had led him to question much of what he believed. Was the Bible true? Did God really love him? Was God even real? The end result was that Danny no longer trusted what he read in the Bible. Going to church was no longer a priority. The other Christians did not understand what Danny's struggles were and sometimes were less than kind in their attitudes toward him. Danny's life drifted and he became progressively more unhappy.
Danny's situation was not lost to the Heavenly Father. His loving Lord understood his struggles and extended His arm of love and began to draw his beloved child back to Himself. He sent other believers to be an example to Danny. His sweet Holy Spirit prompted and began to woo him back to his faith. He could not explain the peace that God gave him but he knew that when he rebelled and questioned God's love for him he grew more and more troubled. When he simply rested in his faith, peace came. He began to realize that His Heavenly Father had never forsaken him. The trials proved the reality of his Father's presence. In Isaiah 54: 8 the Word of God says, "In a little wrath I hid my face from thee for a moment; but with everlasting kindness will I have mercy on thee, saith the LORD Thy Redeemer." To His wayward children God says to "Fear not; for thou shalt not be ashamed: neither be thou confounded; for thou shalt not be put to shame." (Isaiah 54:4) "With great mercies will I gather thee." (vs.7)
Child of God Satan will do all he can to defeat you spiritually. He uses our failures as evidence to our unworthiness. The disturbing fact is, he is right. We do not deserve God's mercy. Nevertheless, "The LORD hath called thee , . . . when thou wast refused, saith thy God." (vs. 6) Though we wander, He is faithful. Rest in His love. Trust Him. When you cannot see or feel Him cling the closer to His Word and He will sustain thee.
Fear Not, For "This Is The Heritage Of The Lord"
Isaiah 54:17
"No weapon that is formed against thee shall prosper; and every tongue that shall rise against thee in judgment thou shalt condemn. This is the heritage of the servants of the Lord, and their righteousness is of me,
saith the LORD."
---
Please leave us a comment if you have any thoughts, ideas, or questions about this post.
If you enjoy Life About Fear please take a second and share it with your friends.