Isaiah 7:4
"Take heed, and be quiet; fear not, neither be fainthearted for the two tails of these smoking firebrands, for the fierce anger of Rezin with Syria, and of the son of Remaliah."
Suggested Scripture reading – II Kings 16:1-9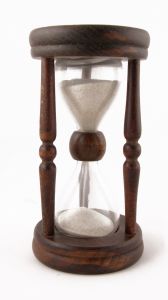 The wicked King of Judah, Ahaz along with the people of Jerusalem, faced a frightening situation. Rezin, the king of Syria and Remaliah, King of Israel, the Northern Kingdom, had joined forces to attack Jerusalem and incorporate it into their kingdoms. The people of God were moved with fear at the prospect of this confederation and attack. Isaiah uses a very vivid word picture to express this fear. "The heart of his people, as the trees of the wood are moved with the wind," They were afraid. (vs. 2) In the midst of this trial and the fear it caused, God sent this man with a message of peace and hope. Isaiah's message was, "fear not, neither be fainthearted for the two tails of these smoking firebrands, . . . Thus saith the Lord GOD, It shall not stand, neither shall it come to pass." (Vss. 4-7) God saw the fear in the hearts of His people and even in their backslidden condition He had compassion on them and sent His man with a message of comfort to them. These two kings and their firebrands of death would not be successful in this attack on the people of God. "Thus saith the Lord GOD, It shall not stand, neither shall it come to pass." (vs.7)
Child of God, Satan has evil planed against you. He seeks daily to overcome you with temptations and distractions. He seeks to destroy you in Hell. He cannot do this but his attacks cause you anxiety. Even when we are backslidden God sees the fear and uncertainty of our hearts and sends his man, your pastor and the preachers and teachers of His Word. Their message to you is this, fear not; be not afraid of the fire brands of the Devil. We belong to God. Satan can never have us. His attacks "shall not stand; neither shall it come to pass." (vs.7) God calls to our backslidden heart, just as He did to His people in Israel's day. Repent, come back to Him. He says to you, "Incline your ear, and come unto me: hear, and your soul shall live; and I will make an everlasting covenant with you, even the sure mercies of David." (Isaiah 55:3)
Fear not the attack of the Devil for it will not stand.
I Peter 5:6-8
"Humble yourselves therefore under the mighty hand of God, that he may exalt you in due time: Casting all your care upon him; for he careth for you."
---
Please leave us a comment if you have any thoughts, ideas, or questions about this post.
If you enjoy Life About Fear please take a second and share it with your friends.