"God is our refuge and strength, a very present help in trouble.
Therefore will not we fear." Psalm 46:1-2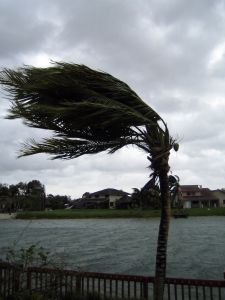 The wind was picking up quickly as we made our way to the safe house into which the people of our church were gathering. Hurricane Georges, a category 4 hurricane was swirling in the Gulf of Mexico just off shore and we were very concerned about our safety. We did not need to worry. A number of years before a paranoid drug smuggler had used his ill gotten wealth to build a home that he hoped would protect him from his vicious enemies. He installed bullet proof glass in the windows. He reinforced the walls and roof to protect him against any assault the other drug lords could mount against him. The only problem was he was arrested by the police and went to prison. Through an unusual set of circumstances this fortress of a property was acquired by a ministry that had an outreach to servicemen who were stationed on the Gulf coast of Mississippi. This is where our little congregation met and fellowshipped while 140 mile an hour winds howled just above our heads. God had placed His children in a refuge where we played games, ate, and enjoyed each other's company safe from the storm. We watched ferocious winds carry rain and debris down the street with frightening force, all from the safety of this refuge.
The psalmist reminds us in Palm 46 that this is what God often does for His children. He, Himself becomes our refuge. He gives us strength to endure the storms that threaten to destroy us. "God is our refuge and strength, a very present help in trouble. Therefore will not we fear." (Psalm 46:1-2) Into our lives storms will come. Illnesses, family troubles, financial stresses will batter our faith. When we run to our Father as a refuge we will find safety and will weather the storm. There were those that night that chose to leave the area and not gather in our safe haven. They suffered through a terrible storm when they could have been safe. Those who refuse the safety of the Father suffer unnecessarily. The Psalmist declares, "Therefore will not we fear." We will not fear even though, "the mountains be carried" away. We need not fear even when "the waters of the sea roar and be troubled." We feared not even in the middle of a category 4 hurricane!
Fear Not: God is our refuge.
Psalm 46: 10-11
"Be still, and know that I am God: I will be exalted among the heathen, I will be exalted in the earth. The LORD of hosts is with us; the God of Jacob is our refuge."
---
Please leave us a comment if you have any thoughts, ideas, or questions about this post.
If you enjoy Life About Fear please take a second and share it with your friends.