FEAR NOT, FOR GOD HATH HEARD"
Genesis 21:17
It was late and the mother lay in bed. She was not asleep, however. Her mind was on her son. He was out somewhere. She did not know if he was safe or in danger. She just did not know and she was afraid for him. She had raised him without his father. He had cast them aside long ago. All she had was her faith in God and His promise. The Faith in God that she had instilled in her son would not leave him. It would bring him back, if not to her, then to her Heavenly Father.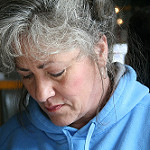 As she prayed that night the Lord brought the story of Hagar and Ishmael to her mind. After Isaac was born to Sarah, Hagar and her son had been sent away. They were soon lost in the wilderness. She ran out of food and water. Near death she placed the boy under the shade of a bush and moved away from him so she would not hear his last cries as he died. There she wept in despair. However, she was not alone in that wilderness. An angel of God came and spoke these words to her. "What aileth thee, Hagar? Fear not; for God hath heard the voice of the lad where he is." God heard him and knows where he is. Hagar and the boy were saved.
That night the mother went to sleep in the sweet peace of God. God heard and knew. There was no reason to fear.
No matter how alone we feel. No matter how much the weight of responsibility presses upon us we can rejoice in the knowledge that our Heavenly Father knows where we are. He knows where our children are. He hears their voices and He hears our prayers. Listen to the sweet voice of His Holy Spirit as He asks in kindness. "What aileth thee?" Our Father knows and hears.
"Fear not, God hath heard"
[podcast]https://lifeabovefear.org/wp-content/uploads/2012/07/God-Heard-And-Knew.mp3[/podcast]
---
Please leave us a comment if you have any thoughts, ideas, or questions about this post.
If you enjoy Life About Fear please take a second and share it with your friends.