"And Elijah said unto her, Fear not; go and do as thou hast said: but make me thereof a little cake first, and bring it unto me, and after make for thee and for thy son." I Kings 17:13
Suggested Scripture reading I Kings 17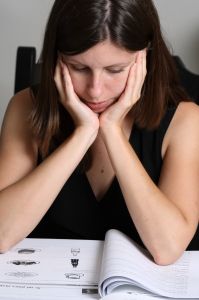 Sarah's first college classes had just begun and she was enjoying her studies. Her problem right now was that she needed a part time job to help with her living expenses. She applied to one business after another but she was running into a problem. Each potential employer required that she work on Sundays. If she took one of those jobs she would not be able to be faithful in church. She loved the Lord and her desire was to be obedient to Him but she really needed a job. The temptation to take the job and sacrifice her responsibility to attend church was very strong.
In I Kings 17, the widow woman faced a similar demand. She had been charged by God to care for Elijah, the prophet of God. The drought that came about when Elijah had challenged Ahab had left her with only enough meal and oil to make a small cake of bread for herself and her son. When that was gone they would die. Imagine her reaction when Elijah requested that she make him a cake first. Her test of faith was to obey the Lord and take care of the man of God as she had been charged to do, and trust God to keep His word to meet her needs. "And she went and did according to the saying of Elijah: and she, and he, and her house, did eat many days. And the barrel of meal wasted not, neither did the cruse of oil fail, according to the word of the LORD" (vs. 15-16) She found that when she did what God told her to do He would meet her needs. The promise of the man of God had been, "Fear not . . . For thus saith the LORD God of Israel, The barrel of meal shall not waste, neither shall the cruse of oil fail," (vs. 13-14) She learned the New Testament truth that when we seek first the Kingdom of God, and his righteousness; all these things shall be added unto us. (Matthew 6:33)
Sarah needed a job but she decided to trust God and obey. She may need to economize but it was more important for her to obey the Lord and trust Him to keep His promise than to walk by sight and disobey. She discovered that obedience brought His blessing and she did not need to be afraid when she was being obedient to the will of God. She learned to; Fear not to put God's will first in her life.
Matthew 6:33
But seek ye first the kingdom of God, and his righteousness; and all these things shall be added unto you.
[podcast]https://lifeabovefear.org/wp-content/uploads/2012/08/026-Fear-Not-to-put-Gods-will-first.mp3[/podcast]
---
Please leave us a comment if you have any thoughts, ideas, or questions about this post.
If you enjoy Life About Fear please take a second and share it with your friends.