"And when I saw Him, I fell at His feet as dead. And he laid His right hand upon me, saying unto me, Fear not; I am the first and the last." Revelation 1:17
Suggested Scripture reading: Revelation 1:9 – 19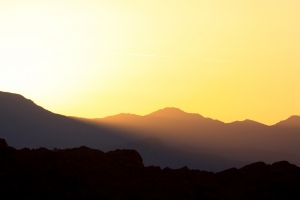 The old saint's road had been long and hard. He had known the joy of serving the Lord for many years. Now his road was turning toward the Dark Valley. He knew he would soon pass through and was expectantly looking forward to the rewards he would receive on the other side. But now, as he saw it stretching before him it seemed so dark and foreboding. How could a shadow be so dark? As he moved into the darkness he could see nothing. Fear began to grip at his heart. What would become of him? He was so alone in all this darkness. Then the hand touched his shoulder and the voice spoke peace and joy to his heart. "Fear not; I am the first and the last. I He that liveth, and was dead; and, behold, I am alive for evermore, Amen." (Revelation 1:17b-18a) The voice was saying,"I have been where you are. You have no need to fear. I died and rose to life again. Therefore, I know the end from the beginning. You are safe with me." As his Lord spoke the darkness was split buy a heavenly light and the old saint was home!
When John saw the Savior on the Isle of Patmos, he fell into a death swoon. The Lord Jesus touched him, raised him again with the promise of life for ever more. He sealed the promise with His own "Amen."
Child of God the greatest fear that anyone faces is the fear of death. We do not know what lies beyond this life. It is the greatest mystery. Jesus promises us life with Him for eternity in Heaven. He even promises to go with us to go with us through that dark, shadowy valley.
He knows the end of our own life from its beginning. He went there Himself and returned to tell us,
"Fear not; I am the first and the last."
Psalm 23:4
"Yea, though I walk through the valley of the Shadow of Death, I will fear no evil: for Thou art with me."
---
Please leave us a comment if you have any thoughts, ideas, or questions about this post.
If you enjoy Life About Fear please take a second and share it with your friends.