"And when Zacharias saw him [the angel, Gabriel] he was troubled, and fear fell upon him. But the angel said unto him, Fear not, Zacharias: for thy prayer is heard; and thy wife Elisabeth shall bear thee a son."
Luke 1: 12-13
Suggested Scripture reading – Luke 1:5-24; 57-80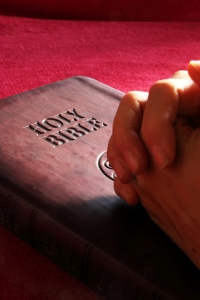 It was a day like any other day. Zacharias and his wife Elisabeth had come to the Temple in Jerusalem from their home in the hill country of Judah outside of Jerusalem. Zacharias was a priest and it was his duty to come and minister in the Temple for a time each year. His job was to burn the incense in the House of God. This day had started out as every other day had in Jerusalem, but it was not just any other day. This day, while he was executing his duties, he saw a wondrous sight. An angel of the Lord appeared to him right beside the of the altar of incense. The angel's message was that he and Elisabeth would soon have a son. Zacharias was dumbfounded. He was very troubled and fear came upon him. He had been a faithful servant of God and a dedicated son if Israel. He had prayed for the peace of Jerusalem (Ps. 122:6) for many years. Till now God had never seen fit to bless him with children because Elisabeth was barren. They were well beyond the age of having children. Now he meets an angel who says that he would soon father a son. His son would be named"John." God was going to use John to preach righteousness to the people of Israel and to "make ready a people prepared for the Lord." (vs. 17.) John was to be the forerunner of the Messiah, the Lord Jesus. Jesus would be born six months later and John's preaching would one day help get the people ready for Jesus' message. He was, "the voice of him that crieth in the wilderness, Prepare ye the way of the LORD, make straight in the desert a highway for our God." (Isaiah 40:3) Zacharias had prayed for his nation for many years but had seen no answer to his prayers. Maybe he had become a little cynical because his response to the angel (vs. 18) reflected a bitterness and a lack of faith. Because of this lack of faith he was struck dumb until the time that his son would be born. Nine months later he declared that the baby would be named John. When he did that God loosed his tongue and, "he spake and praised God." In Luke 1:67-79 he praises God for sending the one who who would deliver his people. He saw it as a political deliverance and one day it will be. However, we know now that Jesus would first deliver his people from their sin. One day Jesus will rule over them as King of kings and Lord of lords. (vs. 67- 74)
Child of God there are many lessons we can take from this wonderful passage but for now let's think about the angel's words to Zacharias. Zacharias had prayed for his nation for a lifetime and God had seemed to ignore his prayers. In his own time God answered those faithful prayers. Have you prayed for something for so long that you thought that God had ignored you? Remain faithful. Pray until the Father removes the burden. Pray till you learn the mind of God. Never grow bitter or cynical. Remember,
FEAR NOT, FOR THY PRAYER IS HEARD
I Corinthians 15:58
"Therefore, my beloved brethren, be ye steadfast, unmovable, always abounding in the work of the LORD, for as much as ye know that your labor is not in vain in the LORD."
---
Please leave us a comment if you have any thoughts, ideas, or questions about this post.
If you enjoy Life About Fear please take a second and share it with your friends.