Job 11:14-15b
"Let not wickedness dwell in thy tabernacles. For then shalt thou lift up thy face without spot; yea, thou shalt be stedfast, and shalt not fear."
Suggested Scripture reading – Job 11:13-19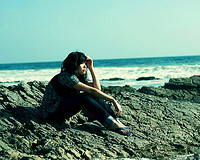 The two girls were friends. They went to the same youth group at church. In high school their friendship had become closer. They were excited because tonight there was a special youth activity that the group had been preparing for weeks. They arrived at the event and had a really good time. After the event was over June's parents were waiting for her in the parking lot. Karen's friends had promised to take her home. June was a little jealous because she knew that Karen and her frineds were not going directly home. They had plans of their own to continue the party. June's parents had refused to allow her to go out with this group. She had been a little disappointed. She did not want to miss out on the fun but a real part of her appreciated their protection because she knew that they would be doing things that her Christian conscience would not allow her to participate in. Later that night the jealousy grew when she began to get texts detailing all the fun they were having, fun she was not having.
Karen had enjoyed the fun of the sinful indulgence until the next day when her Christian conscience began to remind her of how she had failed in her own moral standards and her Heavenly Father's. As the next few days went by her anxiety grew. First, her self respect had been greatly diminished by what she had done. She was afraid that the boy she had been with would spoil her reputation by bragging about their activities. Next the fear became real as she considered what may result from her night of fun. She might have contract a social disease. She might be pregnant. The fear and a guilty conscience were realities in her life that stole her peace and happiness.
June had been jealous for a little while but the next day she went about her life just as before. The joy of the Lord was just as sweet. Her peace of heart was not disturbed. Her conscience was clear.
The story of Job and his counselors is well known. The counselors tried in vain to get Job to confess some sin that had brought about his circumstances. The counselor's problem was that they looked at Job's circumstances with natural eyes but without the mind of God. Still, Zophar, in Job 11:14-15 makes an interesting point. The result of this is "For then shalt thou lift up thy face without spot; yea, thou shalt be stedfast, and shalt not fear." "Thou shalt not fear." The secret of avoiding fear in our lives is simply a clear conscience; A clean face Or as Zophar put it a, "face without spot."
These two girls illustrate this truth clearly. Resist the devil and not only will he flee from you but;
"thou shalt be stedfast, and shalt not fear."
II Corinthians 1:12
For our rejoicing is this, the testimony of our conscience, that in simplicity and godly sincerity, not with fleshly wisdom, but by the grace of God, we have had our conversation in the world, and more abundantly to you-ward.
---
Please leave us a comment if you have any thoughts, ideas, or questions about this post.
If you enjoy Life About Fear please take a second and share it with your friends.