And the LORD, he it is that doth go before thee; he will be with thee, he will not fail thee, neither forsake thee: fear not, neither be dismayed. Deuteronomy 31:8
Suggested Scripture reading Deuteronomy 31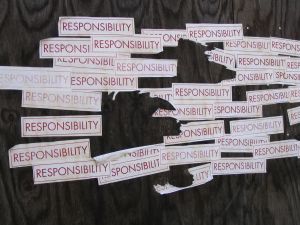 The little chapel was beautifully decorated. Flowers and candles were all in place. Color coordination was evident in each corner of the church. The bridesmaids were on the way down the aisle. The organ was playing beautifully and the next song would be the famous Wedding March. The bride, resplendent in her elegant wedding dress and train had taken her place and was waiting for the chords from the organ that would be her cue to start down the aisle. In a back corner somewhere close to the preacher stood the groom waiting. He looked just a little pale and nervous in his rented tux, but was bravely waiting his turn to appear before the crowd of family and well wishers. At that moment a mischievous look came to the eye of the pastor as he turned to him and said, "Are you really sure that you want to go through with this?" In the split second that it took for him to break into a big grin, thoughts of terror flew through the young groom's brain. What a responsibility! A wife! A family! Kids! Was he really ready? In that same quick second he saw his best man blocking one exit and the preacher the other. He was trapped in this little room with no place to run! As quickly as all those thoughts came they fled. He saw the pastor's grin and knew that he was being kidded. He remembered the beautiful girl, the girl of his dreams, who was on the way down the aisle to become his wife and he remembered how much he wanted to build a life with her. Still, it was a lot of new responsibility and it gave him pause.
Joshua had the same reservations. In our text Moses had just challenged the Children of Israel to courage and he was now exhorting Joshua. Joshua would take on the leadership role that Moses was finishing. Soon Moses would be off the scene and Joshua would be beginning a new adventure. It would be a tremendous responsibility. Battles! Enemies! Unruly people! Was he really ready? Moses knew his fear. He had experienced it himself 40 years before. He could say with confidence that Joshua should, "Fear not, neither be dismayed," because "the Lord, he it is that doth go before thee; he will be with thee, he will not fail thee, neither forsake thee." (vs. 8) The Father had walked every step of the way with Moses and he would be there with Joshua as well.
The ceremony was beautiful. The wedding brought joy to the entire family. As the bride and groom left the chapel that day as Mr. and Mrs. they knew that life would have many challenges for them. Many of them would be hard. Yet, no matter how difficult life would become the Heavenly Father would be there to strengthen and guide them. When we begin new times in our lives we will naturally have misgivings. We can take the words of Moses to Heart. "he it is that doth go before thee; he will be with thee, he will not fail thee, neither forsake thee." Therefore, we can . . .
Fear not, and not be dismayed as we begin new responsibilities .
[podcast]https://lifeabovefear.org/wp-content/uploads/2012/07/Fear-Not-New-Responsibilities-Life-Above-Fear.mp3[/podcast]
---
Please leave us a comment if you have any thoughts, ideas, or questions about this post.
If you enjoy Life About Fear please take a second and share it with your friends.